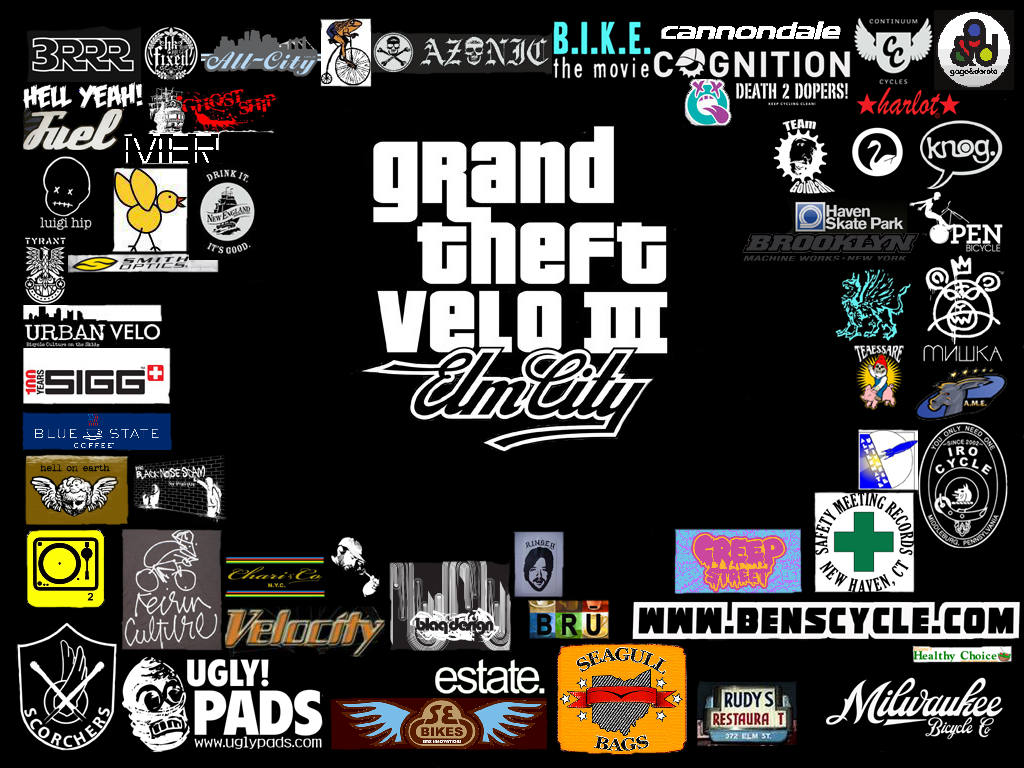 Grand Theft Velo 3 is right around the corner. Here's a li'l update for y'all...
Grand Theft Velo 3
May 16th @ 4pm
Wooster Square, New Haven, CT

keep it tuned to www.scorchers.tk or email us for info
Grand Theft Velo is an annual alleycat based loosely on the
video game
of similar name. Just like the game, riders will complete a series of "missions" complete with tacky story-telling and silly gang-names in order to open the next area of the city. As the rider gets further into the game, the game gets harder. There are "bonus missions" and "cheat codes", but sadly, no dead hookers. Bring a lock, bring a pen, bring $5, and bring a map. We'll have some, but probably not enough, so we'll probably try selling them -- gotta love Capitalism.
All types of bicycle are welcome, as are different skill levels, although a degree of comfort riding in urban traffic is paramount.
The success of previous years has solidified GTV's standing as one of the
Must Attend
events in the Northeast, with last year's winner traveling from Baltimore. As a result, we have seen some serious support from sponsors, both traditional and non-traditional. You can check the left-hand column of this blog for a fairly complete list of sponsors, as well as applicable links.
Some changes to the sponsor list that you should note: Chari & Co has dropped out,
Horroh
,
Feetbelts
, and
Shop Gentei
have been added.
If this hasn't excited you enough, First Place is heading home with a
Pista Concept
, First Place Ladies with a
Cannondale Capo
, and somebody else is getting a
Pake
. Riding fast not your thing? There's a trick/tarck/track omnium sponsored by
Ben's Cycle / Milwaukee Bicycle
with a
top-secret
prize deserving of a First Place finish. I can't officially disclose the exact prize, but let's just say it begins with a "B" and ends in an "R", and while it'll give you one, it definitely ain't a "boner".
The top 65 finishers are guaranteed a prize, and New Haven always does something special for DFL.
If you're looking to bring friends or are unsure if you're riding, we ALWAYS need checkpoint volunteers, and we've designed the event so you won't be sitting on a corner in a bad neighborhood for 3 hours. Volunteers are very important to us, and will be treated as such.
Okay, okay, you've decided you're coming out. Great! Here's how to find us....
If you're using Amtrak or Metro-North...
Get off at Union Station, and use our handy
Gmap-pedometer directions
.
note:
Metro North requires cyclists to possess a Lifetime Bicycle Pass, which can be purchased at your station's ticket counter. A receipt for said pass, dated between May 15th and May 16th is redeemable for 1 drink in New Haven (see a Scorcher for details). Metro North also only allows two bicycles per train car. Some conductors enforce this policy, some don't. Just buy the pass, son!
From points North:
Take I-91 South to New Haven. Take exit 2 for Hamilton St. Take a right off exit onto Hamilton, then next right at light onto Chapel St. Wooster Square (a small town-green style park) will be several hundred feet up on your right.
From points East:
Take I-95 South to I-91 North and
immediately
exit onto Exit 2 - Hamilton St. Take a right off exit onto Hamilton, then next right at light onto Chapel St. Wooster Square (a small town-green style park) will be several hundred feet up on your right.
From Points South/West:
Take I-95 North to New Haven. Take exit 46 for Long Wharf Drive. Take a left off the exit onto Long Wharf Drive and follow this road, which will become East St, until you arrive at Chapel St. There will be a traffic light and "Euro Auto" on your right. Take a LEFT here onto Chapel St. Pass the
Devil's Gear Bike Shop
and wave to Matt, then continue on Chapel several hundred feet to Wooster Square Park on your right.
If you're traveling from out-of-town, save toll-receipts, train tickets, or flight itinerary, as there will be a cash-prize for the rider who travels the farthest to help recoup your costs.
Here's a little New Haven 101 to get you situated...
New Haven is a generally flat city, with a thriving bicycle culture. We are home to Yale, Southern CT State University, Albertus Magnus, and Gateway Community College. We're a college-town. As a result, in addition to the New Haven Police Department, there are other Campus Police and Security departments who enforce (somewhat willy-nilly) laws pertaining to cyclists. Riding on sidewalks is frowned upon, and New Haven motorists are generally accepting of bicycles in the road.
We
do
have our share of crime, but most of it consists of "crimes of opportunity", so bring a lock, hide the bling, and carry your PW3 or pocket-lock somewhere where you can get to it in a pinch.
New Haven is fairly friendly, so get here a little early, schmooze, and secure yourself a couch or floorspot -- they're readily available. We've got inexpensive dining options for carnivores, omnivores, and herbivores. IMPORTANT: Alcohol in CT is purchased at "Package Stores" which close at 8pm and are never open on Sundays (hey, CT was started by Puritans). Bars are usually friendly and drink specials abound, we suggest Rudy's (372 Elm St. and home to our afterparty) and Cafe 9 (250 State St.). Both are open 7 days.
Local shops are:
Amity Bicycles
(18 Selden St., Woodbridge),
College Street Cycles
(252 College St.), and
The Devil's Gear
(433 Chapel St.)
If you're making a weekend out of it:
Friday Night
There will be booze cruises and late night sessions that will take you to some of the checkpoint locations and help familiarize you with our city. There's an
art opening
at
Channel 1
(220 State St.) within site of Cafe 9, featuring works from a few of our own Scorchers, as well as some of the Graff Kings of years past.
Saturday Morning
There will be more opportunities to get acquainted with New Haven, as well as rides to local shops.
Sunday Morning
Amity Bicycle
(18 Selden St. Woodbridge) will be hosting a velo swap, so dig up those old NOS/NJS/POS parts you've got laying around and make some beer money. There's no cost for a table.
Sunday Afternoon
Amity will be hosting some tricks, skids, etc. Possibly polo?